The first step in the career development process is to understand what employers need and look for in engineers.   The engineering needs of employers vary greatly and much of the hiring process involves identifying the individual with the skills, interests and personality that best match the needs.  Some individuals get hired because they have specialized skills that are important to certain employers (e.g., language skills or experience in a particular industry).  However, there are certain qualities that are generally important to many employers and these are the focus of this section.
The general expectations that employers have for entry-level engineers are clearly defined in the criteria used by the Accreditation Board for Engineering and Technology (ABET) in the accreditation process of engineering programs.  Accreditation provides students, employers and society with a level of assurance that a program meets the quality standards that produce graduates prepared to enter a global workforce.  The student outcomes describe what students are expected to know and be able to do by the time of graduation, and they include the following:
an ability to apply knowledge of mathematics, science, and engineering
an ability to design and conduct experiments, as well as to analyze and interpret data
an ability to design a system, component, or process to meet desired needs within realistic constraints such as economic, environmental, social, political, ethical, health and safety, manufacturability, and sustainability
an ability to function on multidisciplinary teams
an ability to identify, formulate, and solve engineering problems
an understanding of professional and ethical responsibility
an ability to communicate effectively
the broad education necessary to understand the impact of engineering solutions in a global, economic, environmental, and societal context
a recognition of the need for, and an ability to engage in life-long learning
a knowledge of contemporary issues
an ability to use the techniques, skills, and modern engineering tools necessary for engineering practice.
Each of the above abilities requires the application of a certain mix of knowledge, understanding, behaviors and skills.  The College of Engineering worked with a large group of employers to identify the key competencies that are required in the practice of engineering as defined by the ABET student outcomes.  These are shown in the graphic below.  Further clues regarding the specific knowledge, behaviors and skills that a particular employer is seeking can be found by carefully reading their job descriptions.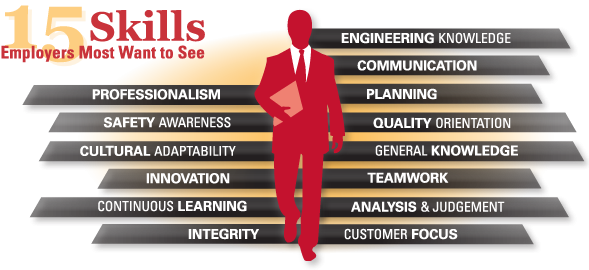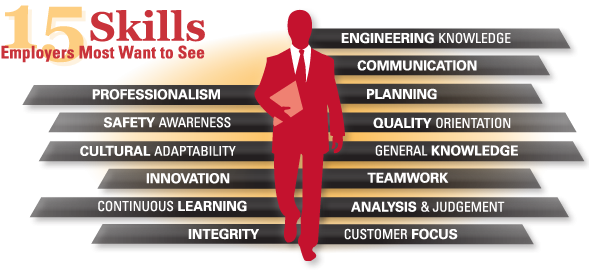 The engineering curriculum at Iowa State University was developed, and is continuously being improved, to ensure students develop the competencies that employers want to see in graduates.  Coursework, co-ops, internships, student organization projects and other activities all provide opportunities to develop engineering competencies and professional skills.   Since many students and graduates complete similar coursework, employers largely differentiate job candidates based on their GPA and the amount and quality of their skill-building experiences outside the classroom.
Grades
Good grades are important.  They indicate that you have the ability to learn and have mastered certain skills.  There is a fairly strong linear correlation between grade point average and employment at graduation.  Additionally, your GPA at graduation will likely affect your starting salary, so there is good incentive to do your best.  However, a high GPA alone is not sufficient; straight "A" students have difficulty securing employment when this is all they have to put on their resumes.  Many entry-level job postings require applicants to have at least a 3.0 GPA, and there are about half as many job opportunities available to those who have a GPA below 3.0.
Work Experiences
In addition to good grades, employers want to see work experiences — especially professional work experiences, such as co-ops and internships.  Co-ops and internships are professional positions where the employer has agreed to make it a learning experience and help you develop workplace skills as you complete engineering tasks.
More information on co-ops and internships
Teamwork, Leadership, and Other Professional Skills
Employers also value active participation in student organizations.  It's not enough to simply belong to an organization; you need to contribute.  Employers want to see that you have practiced your teamwork, project management, leadership and other skills by actively contributing.  Serving as an officer of the organization is great but even leading a project is helpful on a resume.
Inquisitive and Cautious Individuals
Employers like "T-shaped" individuals.  These are individuals who have technical depth in their area of study, but they also have a wide range of interests.  They are generally inquisitive and enjoy learning.  Since engineers often contribute to multidisciplinary team efforts, it is important that they know a little about other disciplines.  Attend presentations and interact with other students outside of your major when the subject interests you. While creativity and innovation are valued by employers, they prefer individuals that do not take unnecessary risks and err on the side of caution.
PREVIOUS STEP: Understand Employers and
the College Recruiting Process

NEXT STEP: Understand the College
Recruiting Process