Your quest for professional employment will go smoother if you have a good understanding of the college recruiting process. Iowa State University has a great reputation for producing good engineering talent. As a result, many employers recruit at ISU. The fact that we have a large number of employers that specifically target ISU engineers for employment provides a large advantage over everyone else in the job market.
Employers engage with the College of Engineering for two primary reasons: 1) to help develop engineering talent and 2) to hire engineering talent. When they come to campus they are also looking to connect with students and identify the talent that matches their needs. The College works hard to maintain strong relationships with employers while still maintaining a fair and equitable recruiting environment.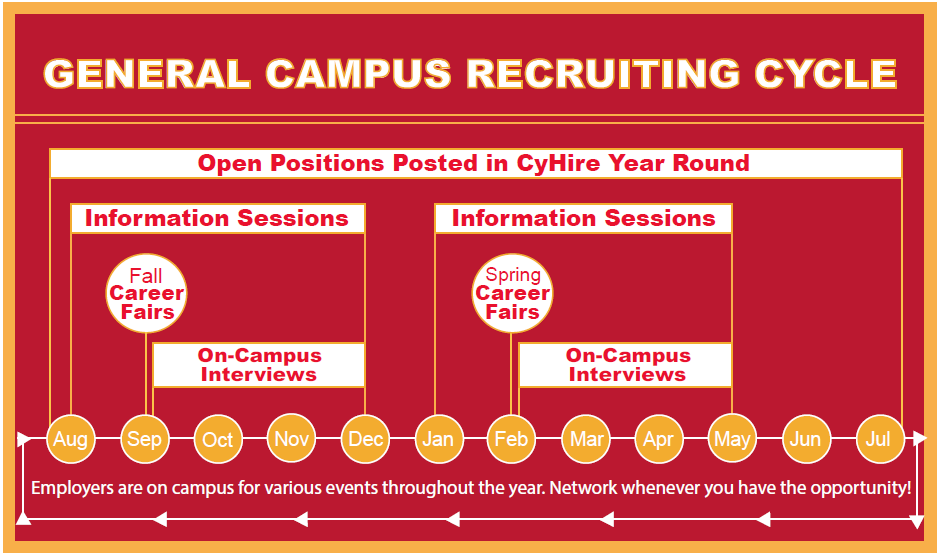 Engineering Career Services (ECS) helps employers promote their employment opportunities and connect with students and alumni. Most students take advantage of the services and events provided by ECS because they know these involve employers that are specifically looking to employ ISU engineers. The main ways ECS helps students and employers to connect include:
CyHire – Employers recruiting at Iowa State post their positions in CyHire, so this should be your primary job search tool. Students use CyHire to apply for positions, schedule interviews, learn of recruiting events and schedule advising appointments with ECS.
Information Sessions – Many companies hold information sessions, which are typically one hour events in the evening where company representatives talk about their company and employment opportunities. These events are great informal settings for networking with recruiters (Step 6).
Career Fairs – The College holds three large Engineering Career Fairs each year. Over 500 employers fill the Hilton Coliseum and the Scheman Building for these events each year. These are great networking opportunities and should not be missed.
On-Campus Interviews – The College of Engineering holds nearly 5,000 on-campus interviews each year. Around 1,500 interviews will be held on the day following the career fair alone. For college students, the normal time frame for job interviewing is during the few months after the career fair in the fall and again in the spring. However, more and more companies are posting positions and holding interviews throughout the year. Some local and regional companies hold their interviews off campus and some companies conduct phone or video interviews to screen candidates.
Using CyHire and participating in the above mentioned events will lead to employment for many students and alumni. However, students are encouraged to connect with employers in other ways, especially if an employer of interest is currently not recruiting at ISU.
The College Recruiting Schedule
Employers recruit year-round, but there is a cycle to the college recruiting process. Most large employers put their college recruiting plans together during the summer break. When classes resume in the fall employers will begin visiting campus to start networking with students, faculty and staff. They are looking to connect with the talent they need, increase name recognition and generate interest in their company and the positions they need to fill. The Fall Engineering Career Fair is held near the end of September and this is the official start of the recruiting season. The networking that is done prior to and at the career fair will result in several thousand on-campus interviews as well as off-campus interviews in an 8 week period following the fair. On-campus interviewing and nearly all of the recruiting activity for the semester ends the week prior to finals. The process begins again at the start of the spring semester.
Some companies try to fill as many positions as possible during the fall semester and then focus on a smaller number of harder to fill positions during the spring semester. In the fall, they will be working to fill post-graduation positions with both fall and spring semester graduates, and fall, spring and summer co-op and internship positions. In the spring, they are generally looking for spring graduates to fill post-graduation positions and students to fill summer and fall experiential education positions. Keep in mind that companies have hiring needs that arise at all times of the year. New jobs are posted in CyHire every week of the year, so it should be checked regularly.