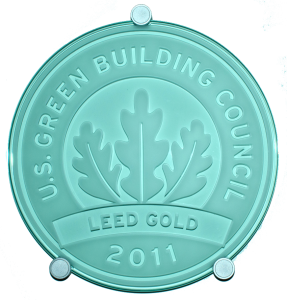 The BRL has achieved LEED-Gold certification under the U.S. Green Building Council's Leadership in Energy and Environmental Design (LEED) certification system. The "green" aspects of the building include ample natural lighting, rain water recovery and reuse, a chilled beam cooling system, doors and cabinetry made from bamboo, a partially vegetated roof, and landscaping that includes native plantings and biomass crops specimens such as switchgrass.
As an incentive to build or remodel with the environment in mind, the U.S. Green Building Council devised the LEED Certification for projects that show outstanding commitment to environmental awareness and sustainable design.  To gain this prestigious title, the BRL required extensive planning from its conception. Everything from construction methods to sunlight quality inside the completed building is factored into the LEED Certification rating. The BRL received a score of 48 points on its LEED evaluation to earn the GOLD certification, which was completed on June 16, 2011. See a PDF of the complete evaluation.
View a slideshow of BRL LEED highlights
View BRL Energy Consumption Benchmarks
Read about BRL's unique conference table, made in part with wood salvaged from campus trees.