Biorenewables Art Competition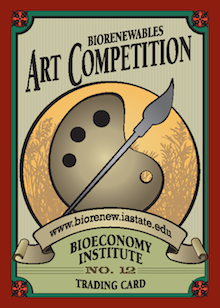 The Biorenewables Art Competition is an annual event for Iowa State students enrolled in art or design courses.  The competition was the result of collaboration among Jill Euken of the Bioeconomy Institute and Ingrid Lilligren and Barb Walton, both professors in the Integrated Studio Arts program of the College of Design. The artwork and exhibit represents the collaborative nature of the building and the research being conducted at Iowa State University.
Each year, jurors select works for the student art exhibit as well as award prizes for best in show, first place, second place, and third place. Each year, one entry is selected as Best in Show. This piece becomes a permanent part of the BRL art collection.
The student art is displayed in the lobby and administrative suite of the BRL. Visitors are welcome to view the exhibit; it is open 8:00 a.m. to 5:00 a.m. (7:30 a.m. to 4:30 a.m. during breaks and the summer), Monday through Friday. The art exhibit is featured at most Biorenewables Research Laboratory (BRL) functions and tours, which include visitors from all corners of the United States and abroad.
Special thanks to Dr. Robert C. Brown, the Director of the Bioeconomy Institute, for sponsoring student prizes.
Biorenewables Art Competition Winners