Opening Reception
The Biorenewables Art Competition 2019 Opening Reception was held Monday, Apr. 22, 2019, 3:00 to 5:00 p.m. in the BRL lobby. The Jill Euken, BEI Deputy Director, Retirement Reception was held concurrently.
Jurors
Catherine Reinhart is a fiber artist living and working in Ames, Iowa. She is the current Artist-in-Residence and Gallery manager at the Iowa State University Design on Main Gallery. Reinhart's work has been exhibited locally and regionally. She was the recipient of a 2016 Art Project Grant for her collaborative project Common Threads and a 2015 Personal Development Grant from the Surface Design Association for work with the Spencer Museum of Art in Lawrence, Kansas. Her artistic voice is one of second chances. Reinhart creates fiber works, works on paper, and site-specific textile installations with reused materials from a state of irrepressible hope, a pessimist driven to create optimistic art. See www.catherinereinhart.com
Heather Whittlesey is a mixed media artist located in Des Moines, Iowa.  She creates larger-than-life paper sculptures, builds slab constructed clay forms that defy gravity, and blows functional glass with painterly effects. The impetus behind her work is about civil rights and social behavior. More precisely, how race, sex and especially class influence the way we treat each other and how it informs boundaries. She is also a financial crimes investigator; this role allows her to delve into the world of consumer rights and protections and how this directly relates to our identities and how people perceive us through our consumerism. Whittlesey has built a fully functioning ceramics studio since graduating from Iowa State University in 2015 and has current plans to expand the studio into a fully fledged community space that houses ceramic, glass and sculpture studios as well as a community gallery. She won best-in-show in the Biorenewables Art Competition in 2011 (with Naomi Friend) and 2015.
Naomi Friend is a professional artist in Central Iowa. She makes art about the land and life based on farming, or "agrarian" art. She is most interested in the intersection of wild, urban, and rural environments and the work of humans as caretakers of creation. Her work has been shown in solo shows in Iowa and Nebraska, and other group shows. It is recognized in local radio, newspaper, published in Diffusion magazine, and resides in public and private art collections. It has received awards in national juried art exhibits. She exhibits in a variety outdoor public art events including the Des Moines Arts Festival. She earned a Masters of Fine Art in Integrated Visual Arts at Iowa State University in 2013 and grew up in the community of Sioux Center, Iowa. Her undergraduate degree is from Dordt College where she studied fine art and graphic design. Friend worked for three years at the Octagon Center from the Arts as the Exhibits Director. Friend operates a small 3 acre farm, Friends Flowers, where she grows flowers for local markets. Friend won best-in-show in the Biorenewables Art Competition in 2011 (with Heather Whittlesey) and 2013. See naomifriend.com
Jacqueline Vanni Shanks is the Manley R. Hoppe Professor in the Department of Chemical and Biological Engineering at Iowa State University and an adjunct professor in Department of Bioengineering at Rice University. She received her B.S. degree in chemical engineering from Iowa State University in 1983 and her Ph.D. degree in chemical engineering from the California Institute of Technology in 1989. Dr. Shanks' research has spanned topics from plant and microbial metabolic engineering for the production of advanced biofuels and chemicals from biorenewable resources to phytoremediation. She has authored or co-authored over 100 publications, and has supervised over 25 graduate students, 65 undergraduate research students, 4 postdoctoral fellows and 4 high school students in her career. She is currently a review editor for Biotechnology Letters and serves as the advisor to ISU GradSWE.  See her profile
Awards
Best-in-show: $750 award and the work becomes part of the Biorenewables Research Laboratory's permanent art collection.
First Place: $350
Second Place: $250
Third Place: $150
The jurors may also elect to award honorable mentions with no cash prize.
See the 2018 Biorenewables Art Competition Winners (BEI website)
History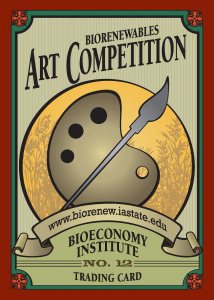 The competition was the result of a collaboration among Jill Euken of the Bioeconomy Institute (BEI) and Ingrid Lilligren and Barb Walton, both professors in Iowa  College of Design. The student art exhibit represents the collaborative nature of the building and the research being conducted at Iowa State University. The competition began in 2010, when the BRL was opened, making 2019 the 10th annual event.
For More Information
Robert Mills, Communications & Marketing, Bioeconomy Institute rmills@iastate.edu | 515-294-4459