Opening Reception
The Biorenewables Art Competition 2018 Opening Reception was held Friday, Apr. 20, 2018, 4:00 to 5:00 p.m. in the BRL lobby.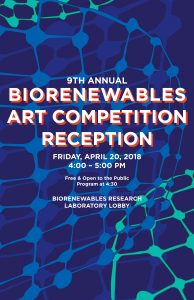 Criteria
Artwork submitted in the Biorenewables Art Competition 2018 reflects the Bioeconomy Institute's mission, which is economic, environmental and social sustainability to advance development of biorenewable resources for the production of fuels, energy, materials, and chemicals. BEI is located in the Biorenewables Research Laboratory on the Iowa State campus.
Eligibility
The Biorenewables Art Competition 2018 is open to all students in Iowa State's College of Design. They may partner or collaborate with any other Iowa State student. Students may submit up to two entries.
Jurors
Alison Ferris is senior curator at the Des Moines Art Center and is the returning juror for 2018. Ferris was a curator at the John Michael Kohler Arts Center where she curated a number of ambitious exhibitions including The Drawing Season (2012); the kids are all right (2013 – traveling to the Weatherspoon Art Museum and the Addison Gallery of American Art); Uncommon Ground (2014); Material Fix (2015); Photography and the Scientific Spirit (2015); and Ann Hamilton: draw (2015). Ferris also served as guest curator for the Portland Museum of Art 2015 Biennial: You Can't Get There from Here.
Catherine Reinhart is a fiber artist living and working in Ames, Iowa. She is the current Artist-in-Residence and Gallery manager at the Iowa State University Design on Main Gallery. Catherine's work has been exhibited locally and regionally. She was the recipient of a 2016 Art Project Grant for her collaborative project Common Threads and a 2015 Personal Development Grant from the Surface Design Association for work with the Spencer Museum of Art in Lawrence, Kansas. Her artistic voice is one of second chances. Catherine creates fiber works, works on paper, and site-specific textile installations with reused materials from a state of irrepressible hope, a pessimist driven to create optimistic art. www.catherinereinhart.com
Andrew Friend is a senior automation engineer at Iowa State and is the scientific juror for 2018. He splits his time between the Bioeconomy Institute and the Center for Industrial Research and Service (CIRAS). He has been with Iowa State since 2009 and received an M.S. in Mechanical Engineering from Iowa State in 2013.
Awards
2018 Biorenewables Art Competition Winners (BEI website)
History
The competition was the result of a collaboration among Jill Euken of the Bioeconomy Institute (BEI) and Ingrid Lilligren and Barb Walton, both professors in Iowa  College of Design. The student art exhibit represents the collaborative nature of the building and the research being conducted at Iowa State University. The competition began in 2010, when the BRL was opened, making 2018 the 9th annual event.
For More Information
Barbara Walton, Associate Professor, Integrated Studio Arts bewalton@iastate.edu | 515-294-1046
Ingrid Lilligren, Professor and Chair, Art and Visual Culture ililligr@iastate.edu | 515-294-8883
Robert Mills, Communications & Marketing, Bioeconomy Institute rmills@iastate.edu | 515-294-4459