The Biorenewables Research Laboratory (BRL) is located on the west side of the Iowa State University campus. It is part of the Biorenewables Complex. The main entrance is on the south side of the building from the Sukup Atrium of the complex. During office hours, you can also enter the BRL via the northwest entrance.
617 Bissell Rd., Ames, IA 50011-1098
Lat/Lon: 42.02778, -93.65275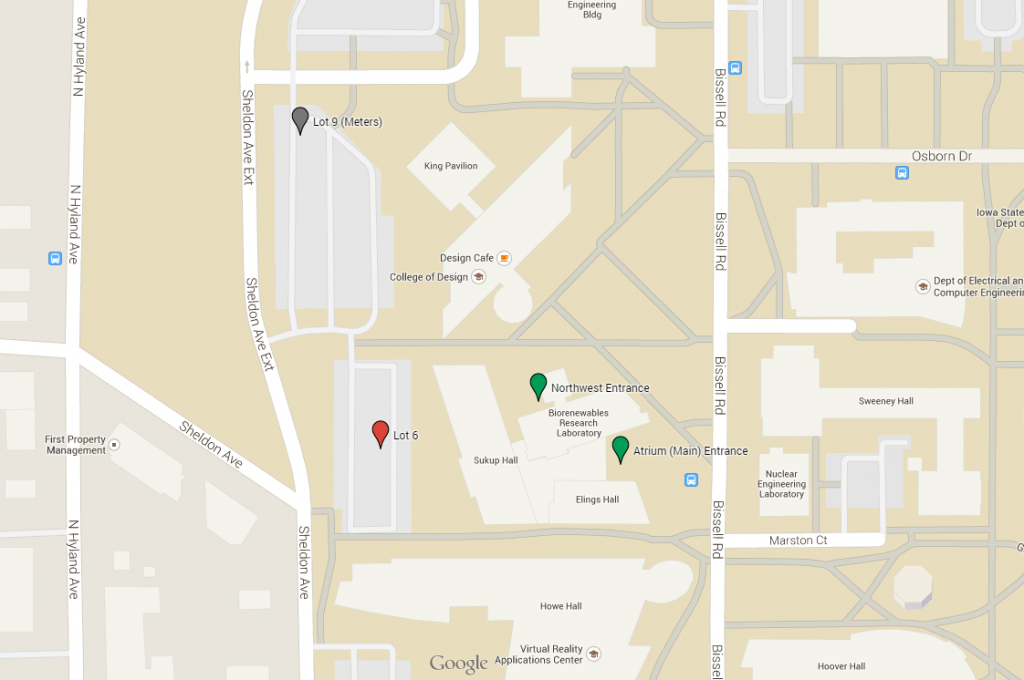 Parking
If you are visiting someone in the BRL and have been told you will receive a parking pass, you can park in the reserved spots (marked by red signs) in Lot 6 west of Sukup Hall. Also, there are a limited number of metered parking spots in Lot 9 northwest of the complex.
Bus Service
Iowa State University is served by CyRide, the city of Ames bus service. There is a CyRide stop on the east side of the Biorenrewables Complex on Bissell Road. See route map.
Bike Racks
Ample bike racks are located on the northwest corner and on the south side of the Biorenewables Complex.
For More Information
Internet Access
Iowa State University has WiFi throughout its campus. See Wireless Data Services from Iowa State's Information Technology Services for more information.