Reduce Blade Manufacturing Cost and Increase Reliability in Automation of Fabric Layup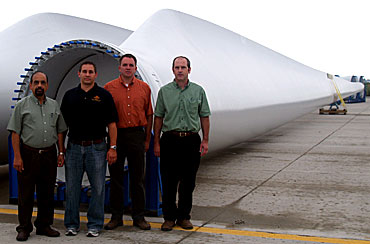 The researchers' goal is to develop new, low-cost manufacturing systems that could improve the productivity of turbine blade factories by as much as 35 percent. With the current manufacturing methods so labor intensive, the researchers work to improve them. In order for the production of wind energy components in the United States to be economical, the researchers emphasize the importance of producing more blades every week.  Some of the manufacturing improvements include developments in automation and quality control.
Iowa State's new lab will contribute to this goal by working with smaller versions of the molds used to manufacture fiberglass turbine blades. The lab will allow the researchers to study blade manufacturing in a controlled setting while they research ways to boost efficiency. The researches anticipate the lab to assist in studying the manufacturing of wind towers, nacelles that sit atop the towers, gearboxes, as well as other wind energy components. The lab will also look at developing new ways for manufacturers to inspect blades without taking them apart thus providing another way to improve factory efficiency and blade reliability.
Partners
WEI News
Upcoming Wind Energy Events
No events at this time.