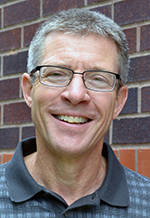 Michael Messman
Senior Lecturer
Mechanical Engineering
Main Office
2100 Black Engr
Ames, IA 50011
Phone: 515-294-0674


Education
MS, Engineering Mechanics, University of Nebraska-Lincoln, 1986
BS, Mechanical Engineering, University of Nebraska-Lincoln, 1984
Interest Areas
Mechanics of materials, fatigue and durability
Machine dynamics and vibrations
Engineering measurements
Digital data acquisition
Multiaxial force transducer design
Correlation of experimental measurements to computer simulation results
Brief Biography
Professional Experience
Midwest Dynamics PLC, Grimes, Iowa (2008 – Present) Owner of professional engineering consulting firm offering 2 and 3 day courses on engineering measurements and data acquisition to industry professionals from off-road equipment and utility vehicle OEMs, automotive OEMs and Tier 1 suppliers, and NASCAR teams.  Also provide test and measurement engineering consulting services.
Clemson University International Center for Automotive Research, Greenville, SC (2007 – 2015) Research Engineer in charge of laboratory operations and testing services.  Developed curriculum and co-taught a graduate level course in vehicle testing.  Provided engineering support for faculty and graduate student research projects, created lab exercises for courses, and conducted test engineering projects for outside companies.  Responsible for laboratory equipment including a chassis dynamometer, sound room, servo-hydraulic road simulator, environmental chamber, and engine dynamometer.
John Deere Technology Innovation Center, Moline, IL (1997 – 2007) Staff Engineer focused on technical development projects involving field measurements, lab tests, multi-body dynamics computer simulations, and finite element analysis.  Expert in measuring and analyzing dynamic loads data from complex machinery and correlating the data to results of computer simulations.  Designed and developed wheel force/moment transducer systems and supervised an instrumentation group.
General Motors Proving Ground, Milford, Michigan (1986-1997) Senior Project Engineer involved in a variety of structural test and measurement projects.  Conducted structural durability evaluations related to product safety issues utilizing fatigue and failure analysis, on-board vehicle measurements, and servo-hydraulic testing.  Designed and developed a six-axis wheel force/moment transducer that became a standard measurement and durability testing tool at GM.