Iowa State University's Biorenewables Research Laboratory (BRL) building is a visible "front door" to its many diverse and broad-reaching programs in biorenewables. The 70,000 sq. ft. facility, completed in 2010, provides affiliated faculty and staff a physical environment that promotes interdisciplinary, systems-level research and collaboration, including laboratory, meeting and teaching space for both graduate and undergraduate students. Construction was made possible through an appropriation from the state of Iowa. The BRL is about one-third of the Biorenewables Complex (BRC), shown in these photos. The BRL is the building on the right (north).
Biorenewables Art Competition
The Biorenewables Art Competition 2017 Call for Entries is now open. Learn more
In the 2016 competition, a video by Skyler Knutzen, an Iowa State University student, was named best-in-show at the seventh annual Biorenewables Art Competition held on Earth Day, April 22.  Learn more | See artist statements, photos, and videos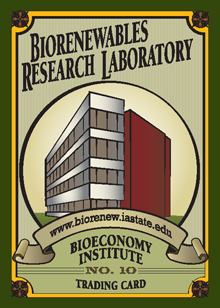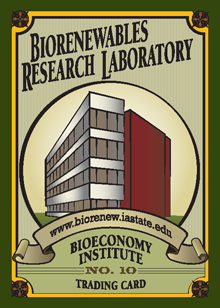 Centers, Programs, and Facilities Located in the BRL
Center for Biorenewable Chemicals
Archer Daniels Midland Company Biorenewables Education Laboratories
More Information about the BRL
Read about the 2017 Biorenewables Art Competition
Learn more about BRL's unique conference table
Download time-lapse movie of the construction of the BRL
More Information about the Biorenewables Complex (BRC)
Built in 2010, the Biorenewables Research Laboratory was just the first phase of a larger project called the Biorenewables Complex (BRC), which was completed in 2014. The BRC includes Elings and Sukup Halls as well as the Sukup Atrium. The two buildings serve as the home toIowa State University's Department of Agricultural and Biosystems Engineering.
Learn more about the BRC.
Learn more about "Floating World," the hanging sculpture in the BRC atrium.